Audience numbers and goodwill are the collateral damage in what has been pitched as a battle between real journalism and fake news. According to recent studies, most people have already begun tuning out the daily news thanks to the overwhelming surplus to consume. Trust level is also at record lows, and many just find news to be a mood killer.
But it is not only readers who are fatigued. According to a study conducted by Pew Research Center, 72% of journalists "use a negative word to describe the news industry — words like 'struggling' or 'chaos' are most common." Although both insiders and outsiders have long been sounding the alarm over the status of the news, that doesn't mean journalists have given up the fight. In fact, the vast majority say they would pick the same career if they were to do it all again.

Enter News platform Semafor, which is moving with the changing tides. Run by industry vets like Justin B. Smith, the former CEO of Bloomberg Media, and Ben Smith, the former editor-in-chief of Buzzfeed News, Semafor wants to rebuild trust with exasperated readers of legacy outlets and "replenish the stock of shared facts". 
What Are 'Shared Facts'?
Thanks to preference-learning algorithms, there's now a media product for everyone — a far cry from the one-size-fits-all approach of the past — but that also presents a problem that Semafor aims to address: With everyone in their own bubble, so-called "shared facts" become scarce. The global media company says these facts are crucial when it comes to facing the biggest issues of our time, such as climate change, the threat of nuclear war, supply shortages, and the erosion of democracy. A shared truth is the first step in understanding our complex, global reality. 
"We began trying to isolate individual issues, such as polarization and information overload, and untangle them," Justin Smith said. "There was a real sense of frustration but also amazement that the core unit of journalism — the article — has not really evolved in literally hundreds and hundreds of years. So while the core unit hasn't changed, everything that revolves around monetization has." 
How It Works: The 'Semaform'
Semafor's intention is to plainly organize articles into three sections: "The Scoop," the "Author's View," and "Room for Disagreement." The Scoop aims to lay down the facts in an authoritative and transparent way. Then the author offers their take on the story based on their research, and also fleshes out where certain biases may occur. Finally in Room for Disagreement, a competing view is offered as something for the reader to digest as the article comes to a close. 
This format seeks to combat the echo-chamber phenomenon born from social media and digital news outlets. Competing views help readers walk away from the article with a better understanding of the other side, even if their mind is already made up on the issue. While this feature may not be brand new, Semafor is determined to make "Semaform" the norm.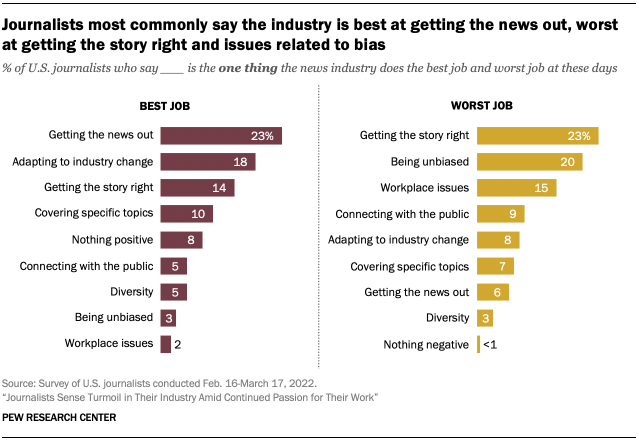 Growing Pains and Critics
Semafor is only a month old, so the industry will be following closely to see if the company can make good on its many promises. Despite its youth, some critics already complain that while the platform acknowledges apparent biases, it is not doing anything to address polarization. That, of course, is no easy task. Global tech companies and media conglomerates have been chipping away at the news industry for years. Can a single publication even tackle such a convoluted issue? 
Others have taken aim at Semafor's front office, whose clout allows them to summon impressive talent for speaking events that hope to tackle the numerous issues of modern journalism. The strategy lies in looking to connect with industry leaders, such as Nick Clegg, Meta's President of Global Affairs, and even journalists connected to the Briefing Room of the White House. 
However, using their industry muscle to court executives runs the risk of alienating readers who earnestly believe Semafor when they say they want to shake up the industry.  
One way that publications are trying to fix their monetization issue is by experimenting through different paywall techniques. Paywalls can be difficult to implement, especially if the publication isn't part of a niche and dominating that niche. Semafor itself admitted that they will switch to a subscription paywall after a year and a half. In addition, they will be relying on corporate partners like Pfizer and Verizon for financial support. 
The Future of Journalism
If transparency is a key plank of the future of journalism, Semafor is attempting to be at the vanguard of capturing readers and restoring public trust in our news institutions. Other publications like France's Mediapart are also trying to handle the many contradictions of the news industry, but by advancing investigative journalism. Mediapart attracted 6.5 million visitors every month last year and thanks to its 200,000+ subscribers, has no ads and doesn't take subsidies from the government. As the media landscape continues to change, many will have their eyes on both Semafor and Mediapart as case studies for allowing journalists and readers to come together to recognize the importance of new models.